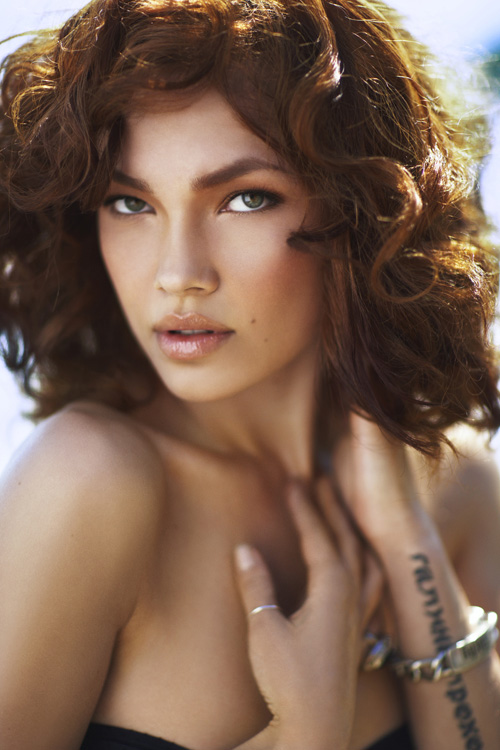 I didn't like Elina's red hair at first, but she made this photo look hot (although not so sure it's a good swimsuit photo).
Photo from CW.com
Tyra starts the episode off by hosting a Princess Party and having all the girls wear tiaras and eat pizza. But, Tyra, Tyra, Tyra, girl, I'm not sure if you're trying to land some movie roles or what, but you have got to stop with the acting (and Mr. Jay, too). Between Tyra-bot and Sleeping Beautyra, I'm ready to just fast forward each week to the photo shoots.

But this week WAS exciting because it was make-over week....or at least it SHOULD have been exciting. This is usually one of my favorite weeks on ANTM, but I was pretty disappointed. None of the girls knew what their makeover looked like until they were completely done. The only tears we had this season were from Elina who got a firey-red, curly weave. As for Sheena & Lauren Brie, hardly anything was changed.

This week's challenge was at WalMart and newly bowl-cut-with-bangs Hannah won the spontaneous Cover Girl commercial. Our small town girl was excited about winning because now she'll be able to Google herself. Ha. Ha.

There was a lot of blah, blah, blah this week. Apparently Elina hates her mom and Britney thinks she's a beyotch because of it, quite frankly from the way Elina was describing it, I agree with Britney.

The photo shoot this week was swimsuits. Hannah had incredibly scary eyes during the shoot, Isis was understandably awkward, but still managed a decent photo, and Samantha was my overall favorite. I love her short, platinum blond haircut.

During judging, Clark looked HORRIBLE and I think probably should have gone home, but it was Britney and Analeigh in the bottom two. Britney was sent packing because her photos were too pretty.