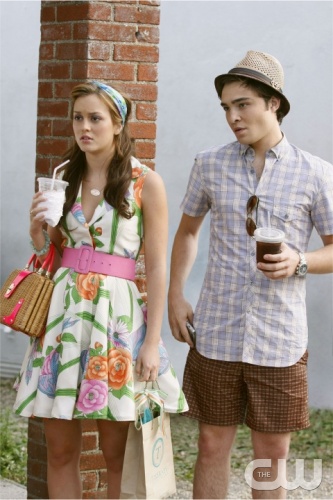 When we last left our Upper East Side clan, Little Jen was stealing from the rich to give to the poor (aka: herself); Serena and Dan were caput; Chuck left Blair waiting for him on a tarmac; and Nate and Vanessa couldn't properly merge their "vastly" different worlds.
We return to some serious cougar action (reminiscent of The OC affair between high school-aged Luke and his ex-girlfriend's mom, Julie) and a pervy Chuck Bass on the Hampton shores. We find Jenny has an internship at Blair's mom's company and when she tries to show off something she's been working on, the response is, "If I'm going to wear custom anything, it's going to matter. Oh, and put that away, eggshell gives me a headache."
And the biggest shocker of the summer, Blair riding on a bus?! Deplorable.
The season premiere was strangely lukewarm to me, but I have to admit there were some great one-liners. "A hot lifeguard is like Kleenex – use once and throw away." Blair tells Serena. Soon after Chuck comes prancing out wearing a sexy Hamptons-meets-Baby Gap-meets-the 80s outfit that the
Fug Girls
bashed earlier in the summer.
And Jenny tells Rufus that the Hampton White Party is so exclusive that they turned away Jack Johnson last year. To which Rufus replies, "Sounds like a party with taste." After just returning from L.A. where I was attending the Jack Johnson concert, I take offence, Rufus, and the CW.
And speaking of little Jen and her summer gig, it's no wonder it's hard to get a summer COLLEGE internship in NYC – the prep schoolers who aren't fortunate enough to spend 3 months basking in the Hampton sunlight have them all.
Then there's the scene when Serena and Nate are walking through the garden talking about Nate's shenanigans with a married woman. I swear his fly is open.


Other noteworthy moments: Cheers to Vitamin Water for such great product placement (wink, wink), and Tinsley Mortimer should stick to her day job of Manhattan socialite and not go down the path toward acting.

In the end, Blair couldn't get her 8-letter, 3-word phrase from Chuck and takes off with the Princeton-man turned Georgetown-boy turned British Lord, Serena and Dan share a gushy moment under the fireworks; and Nate gets a Manhattan booty call from his cougar.

Just another typical day in the life of elite Manhattan teenagers (but that's why we love it).
XOXO.